Dear Reader,
I like to read.
I read a lot.
It comes with the territory so it's good that I enjoy reading.
What I don't enjoy learning though, is how many Americans rarely if ever read books, aren't interested in reading a book and have no plans of reading a book this year, or the next if they can help it.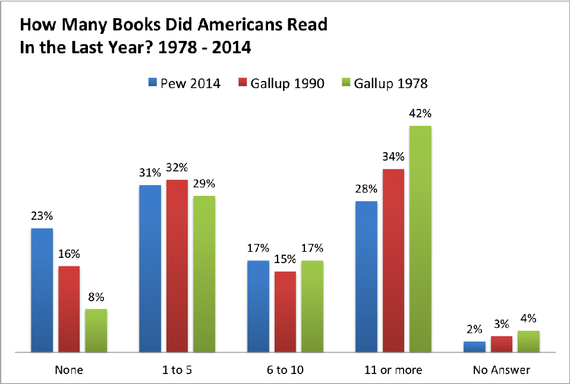 I borrowed this chart from an article in the online version of The Atlantic written by Jordan Weissmann on January 21, 2014.
It may be out of date by a year, but trends just don't change that fast, so I would bet it is still representative of what's happening right now.
It doesn't bode well for those of us who work as writers in whatever medium, but predictions of American abilities and tastes have been wrong before and may be again. Either way, you have to take note of this when designing your marketing.
Who will pay attention and read what you have to say?
The good thing about the reading public is, the people who make more money tend to also read more. This is something you need to know in order to market to the affluent among us. It's where you'll find the biggest returns on your marketing dollars.
Just for a perspective on my reading, I'm listing below what's in my current reading corral.
1. No B.S. Ruthless Management of People & Profits Second Edition by Dan Kennedy. ( I've read everything he's written and continue to re-read when I have time.)
2. The King Of Madison Avenue. David Ogilvy and The Making of Modern Advertising by Kenneth Roman. (A great book on the original "Mad Man".)
3. The Law by Frederic Bastiat from the Ludwig von Mises Institute. (Historical writing on law and personal liberty. Great for perspective on where we are and where we came from to get here.)
4. The 48 Laws of Power by Robert Greene. (Self explanatory, kind of.)
5. No B.S. Sales Success In The New Economy by Dan Kennedy. (You may see a trend developing here. I love the way Dan writes and it appeals to my mid-western sensibilities.)
6. Confessions of an Advertising Man by David Ogilvy. (Actually re-reading again.)
7. Write Everything Right! by Denny Hatch. (I'm a constant student of copywriting and marketing, in case you couldn't tell.)
Not to mention the few books I have going that are sitting on my nightstand. Everything from Ray Bradbury tales to Stephen Kings book on creative writing. Also, I'm slowly cracking Murray Rothbard's Man, Economy and State. Quite the serious book.
Whatever it is, you should be reading as well to keep your mind sharp and your business on track.
How does reading keep you on track?
More on that in tomorrows post.
Here's to bigger responses through smarter marketing.
Regards,
Andrew